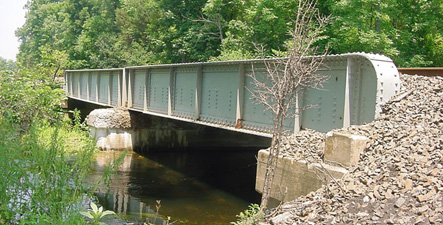 While our infrastructure matures at a rapid pace, many of our rural and urban bridges, viaducts, and culverts are in need of significant repair or replacement. KSE is performing much needed condition surveys, NBIS, biennial, and structural integrity inspections, load ratings, fatigue and scour analyses of bridges.

Our bridge inspection services include both vehicular and railroad bridges, underwater inspection of bridge abutments, piers and bulkheads and fathometer survey of canal/river bottoms for scour evaluation. We have also developed comprehensive computerized bridge information systems to extend the life of these valuable assets and provide bridge engineering expertise for concrete and seismic vulnerability assessments of existing bridges. Additionally, KSE provides extensive experience in inspection of sign structures, high mast light towers, and building facades including inspection for compliance with the New York City Local Law 11.

Our engineers excel in what they do and KSE provides them with the necessary tools and training to make their challenging work exciting and rewarding. In order to save our clients valuable time and money, we constantly adapt to new technologies. Our field professionals use the latest in tablet PCs to produce more efficient, accurate, and consistent inspection field notes, and use wireless broadband Internet access to stay in touch with clients and our main office at a moment's notice. When you close a lane on a major highway or take a track out of service to perform inspection and discover a serious structural flag, the client needs to be notified immediately. Being able to send and receive electronic files and images right from the inspection van has saved our clients thousands of dollars in extra cost. Clients are able to observe the flagged condition while the inspection equipment and MPT are still in place, allowing them to make critical decisions on the spot. Using our Virtual Private Network (VPN) right from the field, our engineers can access a centralized database in the main office to review documents and drawings, necessary for making time-critical decisions. Our services have ranged from the provision of team leaders and full inspection teams to complete project management on minor and major bridges, viaducts, elevated structures, culverts, and sign structures. We have strong credentials as both a prime and subconsultant on infrastructure inspection projects in this challenging region.